Aliso Viejo Concrete Countertops
Best Concrete Countertop Contractor in Aliso Viejo, California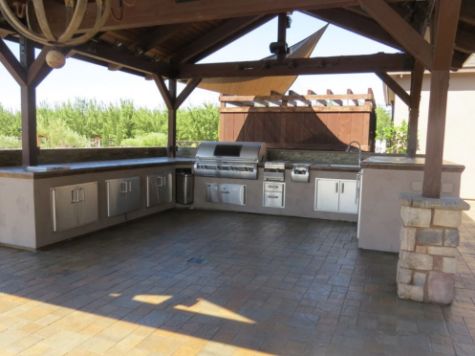 Do you need a countertop for your kitchen? Are you thinking about installing a concrete countertop but do not like the looks of a dark grey slab of concrete? If yes, then you are either living under the rock or not aware of the modern techniques of stamping, acid staining, etching, and so on that can create mesmerizing concrete products. 
There are still large numbers of homes having stone countertops and granite countertops. But concrete countertops are gaining in popularity with each passing day. Aliso Viejo Pro Concrete & Masonry is a well-known name in the field of kitchen and outdoor countertops.
Call us at (949) 674-3805 to get a free quote for the countertop project in your property. 
How are Concrete Countertops Installed?
When one thinks of concrete countertops, he imagines massive slabs of concrete. In reality, countertops for the kitchen made of concrete are just like other granite countertops, which are 1.5-2 inches thick. However, these countertops are much more massive than stone countertops, weighing around 10 KG per square foot. In many cases, our craftsmen need to provide support to the cabinets and the floor to bear the massive weight of these countertops. 
Making Concrete Countertops
Concrete countertops can be made both in the workshop as well as on the premises of the client. Our craftsmen start making the countertop once they have taken precise measurements and also discussed with the customer regarding the finish that he desires. During the construction of concrete countertops, we generally make use of metal mesh or fiber to add to the strength of the structure. 
Once concrete curing has taken place, its grounding and finishing are carried out according to the customer's instructions. Some epoxy is also applied to complete the sealing of the countertop. Once the countertop has been made, the crew at Aliso Viejo Pro Concrete & Masonry handles and hauls it on a truck to the client's site and installs there. 
Advantages of Concrete Countertops
As mentioned earlier, concrete is a construction material that allows for the creation of all shapes and sizes. Customers get desired not only dimensions but also the kind of finish that they want in their kitchen countertop. With concrete, you are not limited to the colors and textures that are available at the store. You can desire and get any shade and design that you have in your mind. 
Concrete countertops can bear the high heat, and you can place hot utensils on your concrete kitchen countertop without any worries in your mind. Concrete is also scratch-proof, so you need not worry about the surface getting damaged because of any sharp-edged object like knives. Concrete is easy to clean though you need to wipe all spills lest they leave stains on the countertop. 
Call us at (949) 674-3805 to get answers to all your queries related to concrete countertops in Aliso Viejo. We can complete all concrete related projects in your premises in high quality at the most affordable prices.