Aliso Viejo Stained Concrete
The Most Reliable Stained Concrete Contractors in Aliso Viejo, California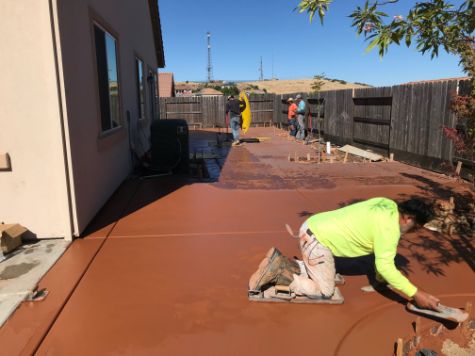 Staining of concrete is an art that has been perfected into a craft by concrete contractors to offer alluring surfaces made of concrete to their customers. Stained concrete is a result of treating concrete with chemicals, including acids. It imparts a luxurious look and feels to ordinary concrete that is loved by the clients. Staining permeates through the concrete slab to give it a luminous tone that looks alluring. 
If you have heard a lot about stained concrete and need high quality and reliable concrete contractor, you have come to the right place. We are Aliso Viejo Pro Concrete & Masonry, the most respected name in the world of concrete and masonry. Call at (949) 674-3805 now to get a no obligations, free quote for the stained concrete project in Aliso Viejo.
Concrete Stained with Acid or Water
Concrete can be stained using acid or water. Both kinds of stained concrete can be obtained with new or old concrete. It doesn't matter whether the concrete is plain or colored if you want to achieve a staining effect. So there is no need to even think of getting your old concrete removed if you have become bored with its dull and dark grey look. At Aliso Viejo Pro Concrete & Masonry, we have highly skilled craftsmen who can transform the looks of your old concrete structure in a very cost-effective manner. This is the reason why more and more homeowners are getting attracted to this method of staining concrete. 
How is Stained Concrete Obtained?
A vast majority of stained concrete is obtained by treating it with hydrochloric acid, water, and several metallic salts soluble in acids. This mixture quickly penetrates the surface of concrete and chemically reacts with calcium hydroxide present in concrete. The acid in the mix etches the concrete surface, thereby making it easier for the metallic salts to penetrate the concrete surface. 
Once concrete staining is complete, it becomes permanent and cannot fade or chip away. These acid stains are translucent, and they produce a certain amount of light, which depends upon the age of the concrete and the color that has been applied to it. There will always be variation in the intensity of stain achieved on concrete depending upon its age and condition. 
Timing of Stained Concrete
Concrete should not be stained soon after it has been installed on the premise of a client. At Aliso Viejo Pro Concrete & Masonry, we have tons of experience in staining of concrete. Our skilled craftsmen recommend customers to wait for 14-28 days after the concrete structure has been installed according to how the concrete curing has taken place. In most cases of new construction, we go for concrete staining before painting of the walls but after taping and texturing of the drywall. This is because a lot of water is used before and after staining. 
Call at (949) 674-3805 to book an appointment with our representative. We can help you in completing high-quality concrete staining in Aliso Viejo at the most affordable prices.