Aliso Viejo Stone Masonry 
Outstanding Stone Masonry Contractor in Aliso Viejo, California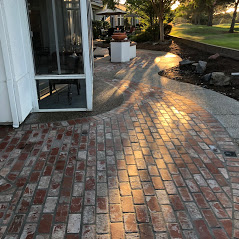 Stone Masonry is an art as well as craft as old as human civilization itself. If you want to create beautiful walls and other living features out of stone in your property and came here searching for a reliable stone masonry contractor, you are at the right place. We are Aliso Viejo Pro Concrete & Masonry, the most well-known name in the world of concrete and masonry. 
We have a large team of highly skilled and experienced craftsmen and masons that can complete the stone masonry project in your property to your satisfaction at the most affordable prices.
Call us at (949) 674-3805 to get a no obligations, instant free quote for your stone masonry project in Aliso Viejo.
Enjoy the Rustic Beauty of Stone Masonry
We can help you with all your stone masonry needs, whether it is a retaining wall, a patio, a driveway, or a pool deck. We work in all types of natural stones, and we can create visually appealing, functional, and extended life features in your property. No task is too small or too big for our skilled masons having tons of experience in stone masonry. Our portfolio speaks for our abilities, and you can see the kind of structures in stone we have made for homeowners and commercial property owners all over the country. 
Whether you are constructing a new home or carrying out renovations in an existing one, Aliso Viejo Pro Concrete & Masonry can turn your dreams into reality. We can beautify your home with stone masonry and stone veneer, using the stone of your choice. Sidewalks and patios made out of flagstone by our masons stand out because of their rustic look and beauty. 
Why Hire Aliso Viejo Stone Masonry Experts?
We have carved a niche for ourselves as a high-quality concrete and masonry contractor that completes projects of domestic and commercial clients in quick time at high quality at the most affordable prices. We are a one-stop stone masonry shop with a wide variety of stones available in large quantities at all times. 
High-quality Stone Masonry in Pocket-friendly Budget!
The stone masonry work carried out by our craftsmen and masons in the properties of our clients' appeals to the senses of everyone who sees it. Many people think that our services are expensive because of the quality of our work. However, we have earned a reservoir of experience in this field to complete the masonry projects in very pocket-friendly budgets. 
Once you have hired our services, you can rest assured of high-quality masonry work on your premises without any cost escalation. We stick to the quote provided by us as we understand the value of a promise made to a customer. We also complete the project in the deadline requested by the customer. One thing that we do make sure is to ensure healthy and long life living features we construct in our customers. 
Call at (949) 674-3805 to know how we can help you save time and money by completing the stone masonry project in your property.