Aliso Viejo Outdoor Fireplace
The Most Competent Outdoor Fireplace Contractors in Aliso Viejo, California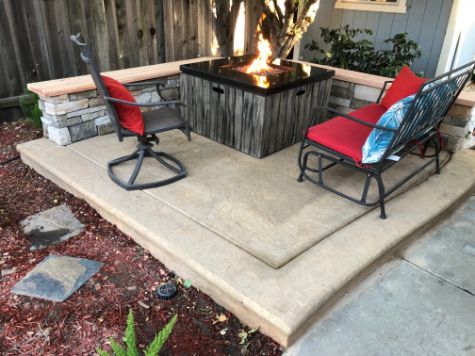 An outdoor fireplace is a trend that is fast catching up with most of the homeowners across the country these days. This is an outdoor living feature that allows family members and friends to gather and enjoy the moments together in comfort. Outdoor fireplaces create an ambiance that is loved by families and all those who throw parties for friends. You have come to the right place if you are searching for a contractor who can build a custom outdoor fireplace for you in your property at affordable prices. 
Aliso Viejo Pro Concrete & Masonry is a well-known name in the field of concrete and masonry. We have skilled craftsmen that can create grand outdoor fireplaces for you in high quality to your satisfaction. Contact us at (949) 674-3805 to get an instant free quote for the outdoor fireplace project in your property.
Different Designs of Outdoor Fireplace with a Choice of Construction Material
At Aliso Viejo Pro Concrete & Masonry, we have a team of highly skilled artisans and masons who enjoy working with our clients to design a perfect outdoor entertainment area keeping in mind their liking and budget. Whether you want a wood-burning unit or a fireplace that works on gas, we have so many different designs and various construction materials that you will be spoilt for choices. We have created beautiful and highly functional outdoor fireplaces in stone, brick, and concrete at the most affordable prices. With deteriorating air quality because of the burning of fossil fuels, more and more homeowners today prefer gas burning fireplaces in the outdoors.  
The Outdoor Fireplace Made of Stone
Out of all the designs of outdoor fireplaces, it is the one made using stone that is the most popular among homeowners around the country. It is not difficult to understand the reason behind this liking. The fireplaces made from stone look rustic, and they easily enhance the value of the property. Though these fireplaces are highly functional, owners love them for their sheer beauty. Also, the homeowner need not worry too much about the building codes as authorities are rather lax when it comes to outdoor fireplaces. 
Outdoor Fireplace with Cooking Area
One thing that is becoming equally popular with outdoor fireplaces is the outdoor cooking area. It can be delightful to be able to cook food for the loved ones or friends in the outdoor living area of your property. The taste and aroma of the food cooked on wood in the outdoors are amazing. We have expert craftsmen who can design your outdoor fireplace to make it easy for you to cook food in the outdoors. 
During summers, when the evenings are relaxed, it is your outdoor fireplace that warms up the area and creates an ambiance to have fun with your loved ones. Call us at (949) 674-3805 to get our expert advice on the material and design of your outdoor fireplace in Aliso Viejo. We can complete the fireplace project in your property in high quality and affordable prices to your satisfaction.