Aliso Viejo Concrete Pouring
The Most Excellent Concrete Pouring Contractors in Aliso Viejo, California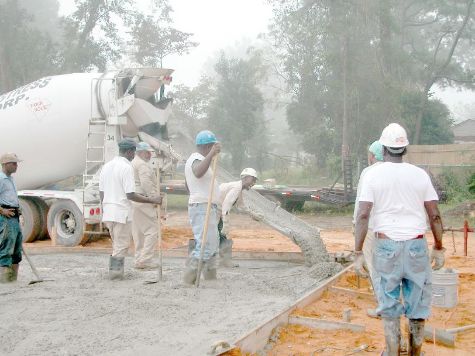 Are you planning to add new outdoor living features such as a driveway or a patio in your property? If yes, then nothing is more economical, durable, and long-term than concrete for the construction of these features. You need high quality and reliable concrete contractors to supply the concrete mix and pour it to install the structures in the desired manner. 
Concrete pouring is a highly professional job that requires a lot of experience and the right equipment. We are Aliso Viejo Pro Concrete & Masonry, a respected name in the world of concrete contractors. Call us today at (949) 674-3805 to get no obligations, free quote for the concrete pouring job on your premises.
Many Things are Done Before Concrete Pouring
Concrete placement in the premises of a client is a job that can never be taken lightly. Concrete sets quickly, and it needs to be tackled on an urgent basis to avoid poor placement and structure. What makes pouring difficult is that concrete installation is different with every project. 
The distance of the site where the concrete mix is required also dictates the full planning process. Once we have got the project to be completed, our employees sit down to work and do all calculations to make sure that the concrete is ready for pouring. This is, of course, after the site has been cleared and made available for streaming down of concrete. We prepare a sub base and calculate the exact dimensions of the surface over which concrete needs to be drained. 
Making Concrete Forms
Depending upon the shape of the concrete forms, our craftsmen place rulers made of wood or metal at the right coordinates. These stakes are kept on the surface in such a way that they can be easily removed after the concrete has been poured. 
The Real Pouring Process
Once the surface has been prepared, it is time to pour the concrete ready mix. In most projects where several yards of cover needs to be constructed, we carry the concrete pore mix inside a truck where there is a provision to keep it roiling so that it does not set. This is the best way to pour concrete, as it saves time that goes into the concrete preparation. A smaller volume of concrete is required, or the truck cannot go up to the site, we carry our concrete pump that delivers concrete at the site through pipes. 
Leveling and Finishing
Once concrete pouring is complete, the next job is to level this concrete. Our craftsmen make use of screeders to level the concrete and also make the edges round and even. Smaller areas on the surface and also the sides are evened out with the help of handheld trawlers. Finally, depending upon threw kind of texture required by the client, concrete finishing is performed by our skilled craftsmen. 
Call us at (949) 674-3805 today to get answers to all your queries regarding concrete pouring in Aliso Viejo.