Aliso Viejo Concrete Leveling
Number One Concrete Leveling Contractors in Aliso Viejo, California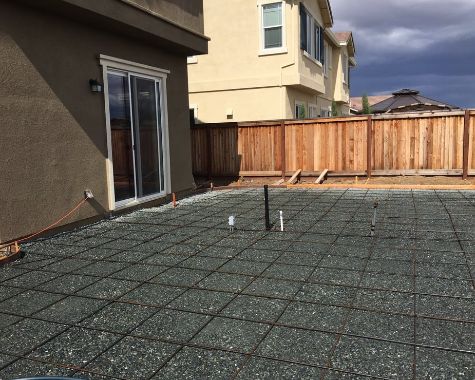 In many cases, concrete slabs settle or sink to leave an uneven surface. It can be not very pleasant for the property owner as a rough surface in a driveway, patio, or sidewalk. It not only looks ungainly but also increases the chances of a slip and accident. The uneven surface also leads to rainwater pools in the property. 
Thankfully, there are ways to rectify the sinking or settling of concrete. You are welcome to the web site of Aliso Viejo Pro Concrete & Masonry, the most well-known name in the field of concrete and masonry. Call us at (949) 674-3805 to get an instant quote for the concrete leveling job in Aliso Viejo.
Why Concrete Leveling is a Good Idea?
If a portion of concrete in a living feature in your property has sunk a little bit, creating an uneven surface, there is no need to call a concrete contractor to remove the entire concrete and lay down a new cover. It can be a lengthy and tedious exercise costing you a lot of money. Thankfully, there is an easy way of dealing with the problem of the sinking of concrete. It is called concrete leveling, and it is not only quick and easy but also very cost-effective. 
Different Techniques of Concrete Leveling
At Aliso Viejo Pro Concrete & Masonry, we have highly skilled masons and craftsmen having complete knowledge about concrete leveling and the reasons behind it. These professionals make use of different techniques to solve the problem for the customer. Some of these are as follows. 
Mud Jacking
This is a prevalent method of dealing with the problem of concrete sinking. Also referred to as grout pumping and slab jacking, concrete leveling in this method is done by pumping a slurry of cement, dirt, and sand underneath the sunken concrete slab. Because of the pressure created by this slurry, the slab moves up, and the concrete leveling is completed.
Concrete Grinding
This is another concrete leveling method in which protruding corners and edges of the concrete are ground to treat the settling of concrete. This method does not provide a long-lasting solution, and it needs to be repeated frequently as concrete slab continues to move up and down. Concrete grinding is not very popular as it gives a strange appearance to the concrete sections that undergo grinding. 
Injection of Polyurethane Foam
This is the most popular method of concrete leveling used by Aliso Viejo Pro Concrete & Masonry. In this method, polyurethane foam at high density is injected underneath the sinking concrete slab to fill the voids in a bid to stabilize and lift it. Whether you are dealing with the problem of a sinking foundation, driveway, or patio, this method of concrete leveling fills the void underneath the concrete slab to solve the problem once and for all for the customer. 
Call us at (949) 674-3805 to get answers to all your questions regarding concrete filling. We can quickly complete the concrete filling project on your premises in high quality at the most affordable prices.