Aliso Viejo Stamped Driveway
The Best Stamped Driveway Contractors in Aliso Viejo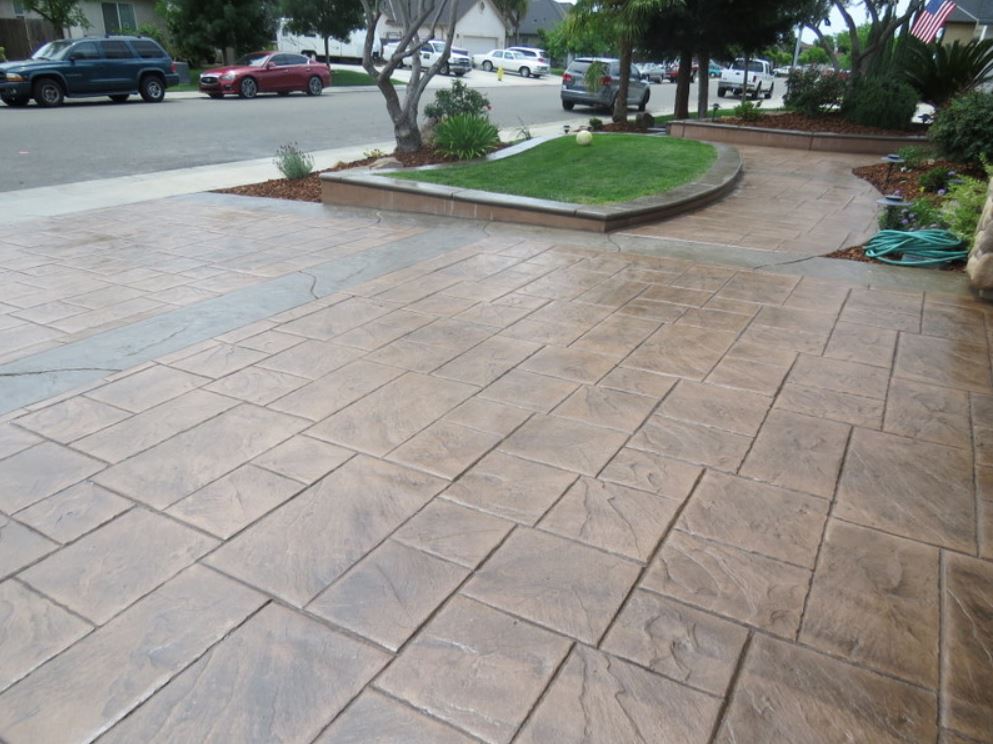 Looking forward to redoing your old driveway? We can help you out in planning, designing, and making the driveway you always wanted to have. In most houses, the driveway is located at the front part. So that's the first thing that your guests notice when they visit your place. And we are sure you would want to make a great impression. You can use brick, stones, or concrete for building a driveway. But if you ask for our opinion, we would suggest that you go for stamped concrete. Why? Read on to find out. 
Hire the most trusted stamped driveways contractor in Aliso Viejo from Aliso Viejo Pro Concrete and Masonry, call us at (949) 674-3805.
Difference Between Pavers and Stamped Driveway
Customers often get confused between concrete pavers and concrete stamps. Let us help you with it.
Stamped concrete is a popular outdoor flooring choice, where special kinds of stamps are used for imprinting design and patterns on a concrete surface. You can simulate any color or design that you prefer. On the other hand, pavers are individual blocks or units placed side-by-side to create sturdy flooring. Pavers use a special interlocking technique to ensure that the units stay in place.
Both pavers and stamped concrete work pretty well. However, if you look closely, the latter has the upper hand. An individual block or paver can get damaged easily, and it can ruin the look of your entire floor. But for stamped concrete, there is so much risk. 
Why Opt for a Stamped Driveway? 
Looks
Stamped concrete looks great on all outdoor surfaces. You can get any pattern or design that you love. If you don't want to burn a hole in your pocket, you can ditch expensive materials. All you need is stamped concrete to create a beautiful driveway for your property. 
Cost 
Concrete is available almost everywhere, and it is pretty cheap too. When compared to other materials, the cost of concrete is much less. So if you have to follow a strict budget, don't hesitate to choose stamped concrete. A stamped driveway will add immense economic and aesthetic value to your property. 
Durability 
Concrete stamps create a protective outer layer for your external surface. A stamped driveway will outlast most other materials. Once you decide to build a cement driveway, you can sit back and relax, as it will continue to retain its looks and functionality for really long. 
Strength 
Another reason why you should choose concrete stamps is its sturdiness. A driveway needs to be very strong to be able to function properly. So concrete stamps come as an easy solution. 
Easy Maintenance 
When you install concrete stamps, you don't have to worry about hefty maintenance costs. Occasional cleaning is enough to retain its looks. 
If you have any queries related to concrete and masonry works, feel free to contact us at (949) 674-3805.
Hire Aliso Viejo Pro Concrete and Masonry Today
Hiring a good concrete contractor is extremely necessary to ensure a successful project. You may come across plenty of contractors around you, but not everyone is as experienced and efficient as Aliso Viejo Pro Concrete and Masonry. We have a team of trained professionals who work hard to create beautiful hardscapes that align with the customers' visions. Our goal is to ensure that you don't have to spend a hefty amount on building the house of your dreams. That is why we keep our charges very reasonable. 
We never compromise on our quality of work. Before embarking on the project, we have an in-depth discussion with the client to make sure that the end product brings them satisfaction and joy. Hardscaping structures last really long if they are built with precision and accuracy. So why not invest in the best contractor in the city? If you are living in and around Aliso Viejo, we are the perfect choice for your property.
So schedule a service, or get a free quote, dial this number right away, (949) 674-3805. You can also fill-up the form below, and we will answer all your queries soon.